SURFORAMA CANCELA SU EDICIÓN 17/
SURFORAMA CANCELS ITS 17th EDITION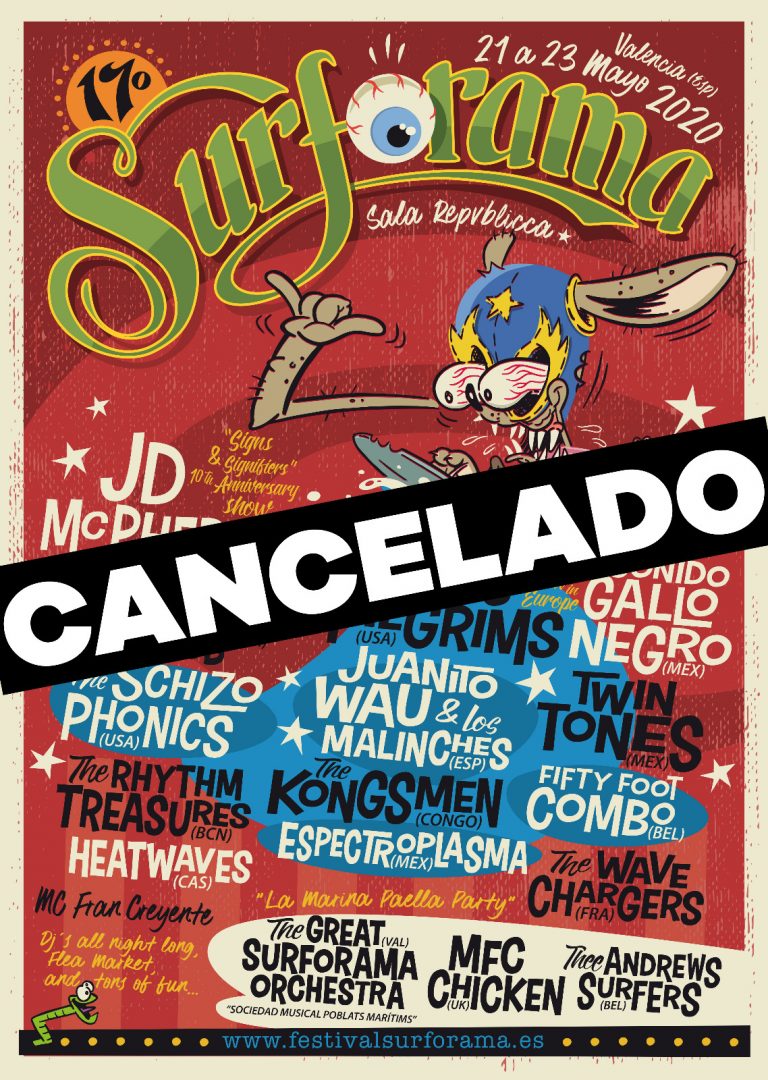 Amigas y amigos del Surforama:
Como era de esperar, tenemos que daros la mala noticia. Lamentamos enormemente tener que comunicaros la cancelación de la 17ª edición del Surforama, programada para los días 21, 22 y 23 de mayo de 2020.
Es una decisión tan dolorosa como inevitable, además de un serio golpe económico. Pero ahora mismo lo más importante es la salud y luchar juntos contra la propagación del virus para que podamos superar esta situación lo antes posible y volver a disfrutar de la música en directo.
En los próximos días procederemos a la devolución del importe de las entradas anticipadas ya adquiridas.
– Todas las ENTRADAS DE DÍAS SUELTOS (jueves, viernes o sábado) se devolverán en un plazo máximo de una semana.
– Los compradores de ABONOS DE 2 DÍAS recibiréis un correo de la ticketera Movingtickets comunicando la cancelación. A partir de ese momento podéis responder a ese mismo correo solicitando la devolución del importe de los abonos adquiridos si así lo deseáis, porque:
– ¡¡Atención!! También te ofrecemos la opción de CANJEAR EL ABONO DE ESTE AÑO POR UN ABONO PARA LA EDICIÓN DE 2021. Este canje incluirá una pequeña sorpresa para agradeceros vuestra fidelidad.
Para cualquier otra consulta os podéis poner en contacto con nosotros en el email: produccion@festivalsurforama.es
Por último, nos vemos en la obligación de subrayar la terrible situación que está sufriendo la música en vivo, con la cancelación de todos los eventos programados en estos y los próximos meses. Son días sumamente difíciles para músicos, promotores, salas, montadores, programadores, técnicos, roadies, gente de producción o comunicación, medios especializados y cualquiera cuyo trabajo dependa de la cultura, el espectáculo y la música. Por ello os decimos que vamos a necesitaros muy en forma cuando esto pase. Estamos juntos en ello. Cumplamos las normativas que nos indica nuestro personal sanitario y, por favor, queridos surforamers,… cuidaos mucho.
La ola volverá, más grande y más fuerte, en 2021
Juandi & Diego
Valencia, 27 de abril de 2020
Dear Surforama friends:
As expected, we have to give you the bad news. We are very sorry to have to inform you of the cancellation of the 17th edition of Surforama, scheduled for May 21, 22 and 23, 2020.
It is a decision as painful as it is inevitable, as well as a serious economic blow. But right now the most important thing is our (and your) health and fighting together against the spread of the virus so that we can overcome this situation as soon as possible and enjoy live music again.
In the next few days we will proceed to the refund of the tickets already purchased.
– All SINGLE DAY TICKETS (Thursday, Friday or Saturday) will be refunded within 7 business days
– Buyers of 2-DAY PASSES will receive an email from Movingtickets communicating the cancellation. From that moment you can reply to the same email requesting the refund of the amount of the purchased subscriptions if you wish, because:
– Attention!! We also offer you the option to REDEEM THIS YEAR'S PASS FOR A PASS FOR THE 2021 EDITION. This exchange will include a small surprise to thanking you for your loyalty.
For any other questions, contact us by email: produccion@festivalsurforama.es
Finally, we must underline the terrible situation live music is suffering and will suffer in the near future. With the cancellation of all the events scheduled in these and the coming months, these are extremely difficult days for musicians, promoters, venues, editors, programmers, technicians, roadies, production or communication people, specialized media and anyone whose work depends on culture, entertainment and music. That is why we tell you that we are going to need you very fit when this happens. We are in it together. Let's comply with the regulations indicated by our healthcare personnel and, please, dear surforamers, … take good care of yourselves.
The wave will return, bigger and stronger tan ever, in 2021
Juandi & Diego
Valencia, April 27, 2020